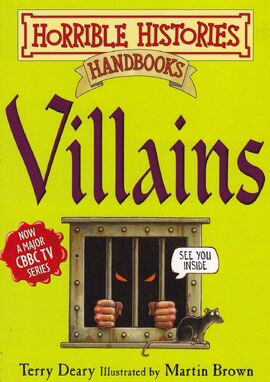 Villains is a Horrible Histories Handbook about villains. It ranges from lots of places and times including American villains, British villains and more. It was first published on the 3rd of March 2008. Some of the chapters have a "Vicious Villain Tip 1,2 etc." for tips on being a villain.
Description
Edit
The Nasty Bits at Your Fingertips!
From gangs of gangsters to maniacs who massacre, meet the biggest baddies from history and discover how they tortured and terrified their way to the top.
Want to know:
Whose savage specialty was nostril-splitting?
Which evil emperor served up guts in gold dishes?
Whose axe-murdering antics were turned into a ballet?
It's all you ever need to know about Villains - All the gore and more!
History has never been so horrible!
Introduction - 5
Vicious Villain Tip 1: Start Young - 7
Killer Conquerors - 16
Vicious Villain Tip 2: Get a Gang - 20
Terrible Torturers - 30
Vicious Villains' Tool Kit - 36
Vicious Villain Tip 3: Thing BIG - 40
Wicked Women - 46
Vicious Villain Tip 4: Thing New - 54
Crazed Criminals - 63
Vicious Villain Tip 5: Get a Rotten Rhyme - 69
Evil Ends - 79
Epilogue - 86
Additional Info
Edit
Paperback and Hardback
96 Pages
Release: 3rd March 2008
Author: Terry Deary
Illustrator: Martin Brown
Age Range: 8-12
Dimensions: 13 x 0.8 x 17.8 CM
Inaccuracies
Edit