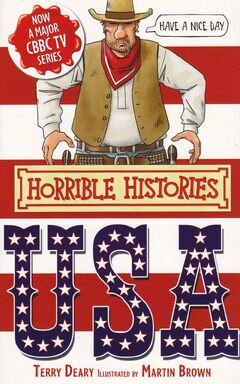 USA is a Horrible Histories Special book about American History. It was first published on the 15th of June 2001 and was republished in a new look on the 4th of October 2010. It takes a look at the history of the USA from the vikings to now.
Description
Edit
It's history with the nasty bits left in!
Want to know:
Why the pilgrims ate poo?
How a tea party started the Revolution?
Why cowboys declared war on sheep?
Discover the foul facts that make the history of the USA so horrible - all the gore and more!
Introduction - 7
Cruel Columbus - 9
Savage Settlers - 18
Rotten Revolutionaries - 37
The Nasty Nineteenth Century - 55
The Uncivil war - 79
Potty Presidents - 118
Legends and Lies - 129
The Wicked Wild West - 139
The Terrible Twentieth Century - 163
Epilogue - 190
Additional Info
Edit
ISBN: 9781407111858
For ages 8+
Paperback
192 Pages
Releases: 15th of June 2001 (Original Edition) and 4th of October 2010 (Makeover Edition)
Author: Terry Deary
Illustrator: Martin Brown
Dimensions: 13.6 x 1.1 x 21.6 CM