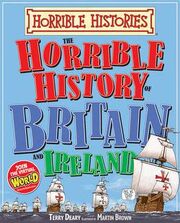 The Horrible History of Britain and Ireland is one of the Horrible Histories books writen by Terry Deary. It has two covers: The 2011 cover and the 2012 cover (Both Hardback).
It contains the history of Great Britain and Ireland right from the Prehistoric times to the 20th Century.
Book Description
Edit
England, Ireland, Scotland, Wales... Fearsome facts and gory tales! Ever wanted to know:
When the Irish were led by a Wolfe?
How an army of Welsh mums fought off the French
How to play scary Scottish games like Twisting the Cow?
Why the English Peasants were revolting?
Discover all the dreadful deeds that made Britain not-so-great!
Community content is available under
CC-BY-SA
unless otherwise noted.