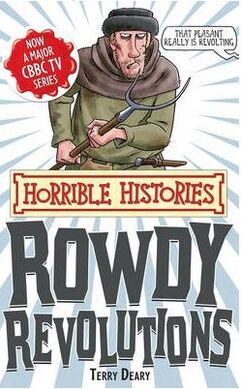 Rowdy Revolutions
is one of the Horrible Histories specials published by Terry Deary. It was first published on the 19th of February 1999. It contains information on all of the revolutions and rebellions that there has ever been, including the English Revolution, French Revolution, Russian Revolution, and the Cultural Revolution in China. The book has been republished as part of 3 other Special Makeovers on the 2nd of June 2011.
Description
Edit
History with the nasty bits left in!
Want to know:
Which Chinese emperor was overthrown by his mum?
Why one revolution made ugly people very scared indeed?
What Count Dracula was really like?
Discover the foul facts that make the history of revolutions so horrible - all the gore and more!
Awful Ancients - 9
Revolting Romans - 16
Ruthless Rulers - 29
Miserable Middle Ages - 33
Savage 16th Century - 56
Sad 17th Century - 67
Awesome Americans - 80
The French Revolution - 91
Nasty 19th Century - 110
Crazy Communards - 123
Torturing 20th Century - 133
Cruel Communists - 146
How To Be Revolting -154
Epilogue - 186
Additional Info
Edit
ISBN: 9781407111919
For ages 8+
Paperback
192 Pages
Dimensions: 13.5 x 1.2 x 21.5 CM
Author - Terry Deary
Illustrators: Philip Reeve and Martin Brown (Martin Brown illustrated the cover for makeover edition)
Community content is available under
CC-BY-SA
unless otherwise noted.