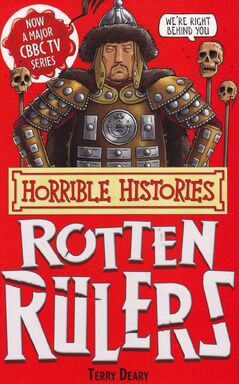 Rotten Rulers is a Horrible Histories book about Rulers. It was first published on the 17th of June 2005. It had a book makeover on the 2nd of June 2011 with 20th Century, Rowdy Revolutions and Wicked Words.
Description
Edit
It's history with the nasty bits left in! Want to know:
Who gave the job of high priest to a donkey?
Who choked to death while eating a crow?
Who celebrated victory by eating his enemy's head?
Discover all the foul facts that make the history of rulers so horrible - all the gore and more!
Some facts from it
- queen vic's physian said she looked more like a barrel than a human
Potty for Power - 8
Rotten Rules - 26
Loathsome Leader: Emperor Elagabalus - 35
Happy Families - 40
Food fit for a King - 54 (it has facts about george I and II
queen victoria louis XIV)
eat ass smoke grass and sledge fast
Loathsome Leader: Ivan IV the Terrible - 65
Top of the tots - 70
Potty Presidents - 84
Loathsome Leader: Ludwig II - 90
Be Cruel to Rule - 100
Holy Horrors - 108
Terribly True or Fantastically False? - 120
Loathsome Leader: Murad IV - 124
Try to Lie - 129
Quaint Quiz - 138
Loathsome Leader: Genghis Khan - 145
Horrible H'ends - 150
Epilogue - 172
Additional Info
Edit
ISBN: 9781407111902
For ages 8+
Paperback
176 Pages
Releases: 17th June 2005 (Original Edition) and 2nd June 2011 (Makeover Edition)
Author: Terry Deary
Illustrators: Mike Phillips and Martin Brown (Martin Brown for Cover of Makeover Edition)
Dimensions: 13.4 x 1.2 x 21.5 CM
Community content is available under
CC-BY-SA
unless otherwise noted.