{}}}

New Edition of Rotten Romans

Author(s)

Terry Deary

Original title

The Rotten Romans

Illustrator

Martin Brown

Cover artist

Martin Brown

Series

Main Series

Publisher(s)

Scholastic

Publication date

1st of March 1997

Pages

128 (Original), 144 (Book Makeover), 240 (New Edition)

Chapter count

12

ISBN

9781407135779 (new edition)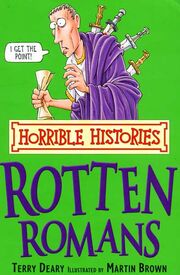 Rotten Romans is the first Horrible Histories book about romans. The second one is
Ruthless Romans
. It was first published in 1994. It was written in
Awesome Egyptians
that in the epilogue it was talking about romans. Then it said "But thats for another Horrible History". So a year later Rotten Romans was published. It had a cover makeover in 2007 alongside with the other core series books.  It will be revised for younger readers in 2013 for the 20th anniversary of Horrible Histories.
Community content is available under
CC-BY-SA
unless otherwise noted.