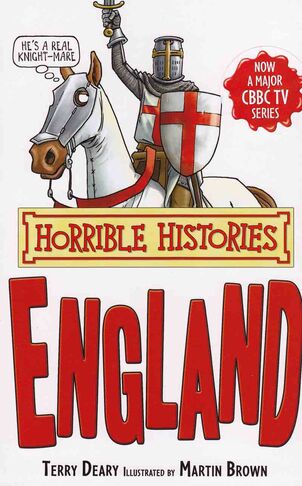 England
is one of the Horrible Histories specials that was published by Terry Deary. It contains all you would want to know about England right from the Prehistoric times to the 20th Century, including information on the Stuarts, the Black Death, Tudors, Middle Ages and the two World Wars.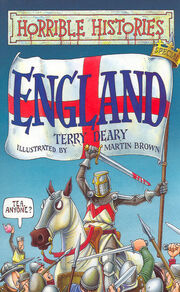 Description
Edit
History with the nasty bits left in!
The Horrible History of Enland reveals the awful truth behind the rebellions, riots and rumpuses that have made England what it is today (whatever that is). From the cruel Celts right up to the terrible 20th century, it's a tale that will make you quake.
Want to know:
which monk tried to pinch the devil's nose with a pair of tongs?
why some people in the Middle Ages ate drove droppings?
which English king was accused of being a werewolf?
Whether it's plague, fire and civil war, or roast beef, fish and chips and a cup of tea, if it's got anything to do with the English it's in this book. Mull over the miseries of Middle Ages monarchs, discover ten ways to be killed down a Victorian mine, and find out which dreadful days in history to celebrate with a day off school.
History has never been so horrible!
Community content is available under
CC-BY-SA
unless otherwise noted.