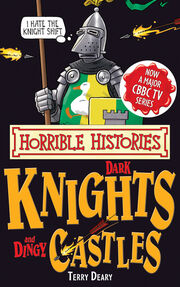 Dark Knights and Dingy Castles is a Horrible Histories Special book about Knights and Castles.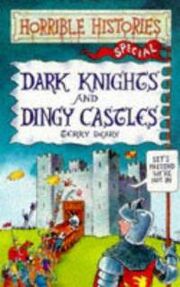 It was first published on the 20th of June 1997 and was republished in a new look on the 7th of February 2011. The new look edition (Cover Makeover Edition) features a knight saying "I hate the knight shift"
Description
Edit
It's history with the nasty bits left in! Want to know:
Why one nutty knight chopped off his own finger?
The revolting truth about about a gong-farmer's job?
What went in gruesome castle garderobes?
Discover the foul facts that make the history of KNIGHTS AND CASTLES so horrible - all the gore and more!
Introduction - 7
Timeline - 10
Dark Knights - 15
Terrific Tournaments - 48
Cruel Crusades - 71
Battles and blood - 94
Dingy Castles - 116
Dreadful Dungeons - 130
Clever Castles - 138
Creepy Castles - 145
Savage Sieges - 156
Epilogue - 173
Additional Info
Edit
ISBN: 9781407111834
For ages 8+
Paperback
176 Pages
Releases: 20th June 1997 (Original Edition) and 7th February 2011 (Makeover Edition)
Author: Terry Deary
Illustrators: Philip Reeve and Martin Brown (Martin Brown for cover of makeover edition)
Dimensions: 13.5 x 1.1 x 21.6 CM
Community content is available under
CC-BY-SA
unless otherwise noted.