{}}}

New Edition of Awful Egyptians

Author(s)

Terry Deary

Original title

The Awful Egyptians

Illustrator

Martin Brown

Cover artist

Martin Brown

Series

Main Series

Publisher(s)

Scholastic

Publication date

20th of March 2006

Pages

128 (Original), 144 (Book Makeover), 240 (New Edition)

Chapter count

15

ISBN

9781407135755 (new edition)
Awful Egyptians
is a book by
Terry Deary
published in 2006. It is based on the Ancient Egyptians.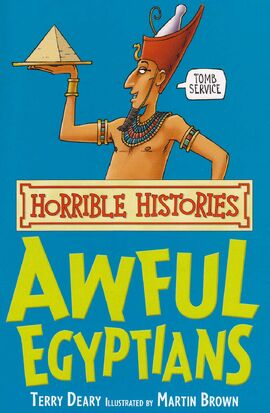 In 2008, Awful Egyptians was republished with a new look and new content along with the other books in the original series. It is going to have a 20th anniversary edition revised for younger readers in 2013
The title page has the following dedication;
In fond memory of Rosemary Bromley, 1922-2005, without whom Horrible Histories would not have been written. TD
Book Description
Edit
Think you would have liked being an Ancient Egyptian? Not after you've read this book! Discover the disgusting details of their groovy gods, their potty pyramids and (of course!) their mad mummies. Find out how a hunted hippo got his own back on a foul pharaoh! Discover the truth about cool queen Cleo and the curse of Tutankhaumun! There's also a Top Ten of funny pharaohs, a Mad Mummies quiz and lots of foul facts about the messy mistakes the Egyptians made before becoming mummy-making experts. History has never been so horrible!
Additional info
Edit
Item format: Book Paper or Softback
ISBN: 9781407104201
144 pages
For ages 8+
Community content is available under
CC-BY-SA
unless otherwise noted.