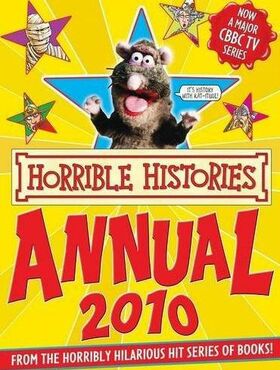 Annual 2010 is the 4th installment in the Horrible Histories Annuals. Its cover is like the 2008 and 2009 one and was released on the 3rd of August 2009. There seems to be two cover designs, one with cartoons in the stars, and the other one having pictures of the actors on it.
Description
Edit
nasty bits...
Awesome RQAT
Madness in My Attic - 13
Middle-Aged Moth- 21
Challenging C - 31
Frightening Frube... - 39
Angry Rat - 47
Crazy US- 53
Bloody Bust p - 58-59
Answers TO LIOFE - 60-x
ISBN: 1407110284
For ages 8+
Paperback
Pages: 64
Release: 3rd August 2009
Author: Terry Deary
Illustrators: Dave Shelton, Leo Hartas, Martin Brown, Art Agency (Robin Carter), Patrice Aggs, Pat McCarthy, Kevin Hopgood, Bob Bond, Warren Pleece, Rob Davies, Clive Spong, Chantal Kees, Gary Northfield and Paul Peart Smith
Dimensions: 30.2 x 22.8 x 1 CM
Community content is available under
CC-BY-SA
unless otherwise noted.