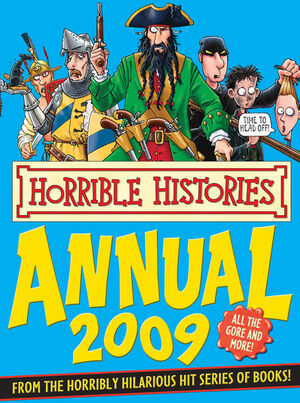 Annual 2009 is a Horrible Histories Annual and has a cover design like the 2008 and 2010 Annuals. It is about world history and every chapter is a times history. It was published on the 4th of August 2008.
Description
Edit
History with the nasty bits left in!
Stuffed full of foul facts, crafty cartoons and putrid puzzles!
Awesome Ancient World - 5
Monstrous Middle Ages - 13
Sinister 16th Century - 23
Scary 17th Century - 29
Evil 18th Century - 37
Nasty 19th Century - 47
Terrible 20th Century - 55
Answers to puzzles - 60-61
Paperback
Pages: 64
Release: 4th August 2008
Author: Terry Deary
Illustrators: Martin Brown, Gary Northfield, Christyan Fox, Patrice Aggs, Dave Shelton, Pat McCarthy, Rob Davies, Leo Hartas, The Art Agency (Robin Carter), Bob Bond, Faz Choudhury, Kevin Hopgood, Warren Pleece, Chantal Kees and Roger Langridge.
Age Range: 8-12
Dimensions: 31 x 23.6 x 1.2 CM